Boat services in North Wales, from engine  and boat systems maintenance to boat cleaning, is an important aspect for all boat owners. This article looks at boat detailing.
Part of protecting your boat in North Wales includes looking after the hull or inflatable tubes, the seats and interiors , the list goes on. This is important for the efficiency of the boat through the water. It is also both aesthetically pleasing and satisfying for the boat owner.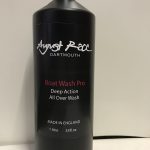 We have a range of products for cleaning and polishing your boat.
They include gel coat, inflatable tubes, and interior vinyl. Check out the range in our parts page.
We undertook a quick patch test on an inflatable rib. The photo below shows the result we achieved using the inflatable tube cleaner.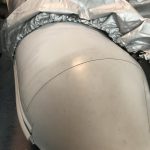 You can easily undertake the clean and polish yourself.
For those that wish to spend their valuable time on the water, please contact us for a price wash and polish your boat for you.